Chicago
Chicago was a challenge, as befits a big city. After miles of desert and forest and small cities and smaller towns, it required a shift in both sensibility and travel skills.
First, it took us nearly two hours to drive the last 20 miles on the highway, and that was at 3 pm. Turns out it wasn't normal Chicago traffic, but an accident on the road. But everyone who met us in town had similar driving woes. Big city congestion.
We finally got to the Allegro Hotel. Downstairs, a row of bellhops, so formal. The line to check in was long and multilingual. I was so tired by then, I felt caught in a tornado.
It was a pleasant lobby, though. And a pretty room, with salmon colored walls and black-and-white striped headboards on the beds. But our first night in the hotel we noticed a noise like chairs scraping across the floor above our heads. Except that it went on for hours. All night, in fact.
We changed rooms in the morning. This took over an hour to accomplish (see: hotel=big, Italian tourists=numerous). Then we sat in our new room and relaxed. For a minute. Until Dan said, "What's that strange smell?" It smelled as if someone had just dumped a bottle of nail polish on the floor. Not only did it stink, we had no idea what chemical caused it. What if it was toxic?
This time the hotel housekeeping manager got involved.
Half an hour later, we left for our day afternoon with our huge pile of belongings still in the nail polish room but an assurance we'd have yet another room when we got back.
I don't usually mention details like this. Too mundane, I always think, a bit dull to recount and probably duller to read. But after two weeks on the road, such irritants begin to loom large. It's hard, I think, to be away from home. It's fun and fascinating and intense and enveloping, yes, all that, but it's also unstable and insecure. I always settle into the rhythm of it if I know I'll be on the road for a good long while, but as I approach the end, road-weariness always sets in. I long to unpack suitcases and sprawl in a space that's my own.
And this time we travel across country to a new home that doesn't yet feel like home. It's a place we've seen twice, filled with another family's laundry and furniture. In and of itself it will feel foreign and off-kilter. So I think being in hotel rooms and guest rooms, as we get closer to the end of this journey, it wears on us. Wearies us. If we run into a problem with the hotel on top of that, the issue is magnified. We're vulnerable right now.
So. Chicago. Wednesday night. We left the hotel in search of dinner, walking through an eerily deserted downtown, skyscrapers like moonlit canyons all around us, the El rattling past and over our heads. We walked on a bridge over the Chicago River, spotted a life preserver on the side of a building, the way you often see fire extinguishers in office hallways. Walked on a bridge over the highway we'd come in on. Quieter now, no longer a sluggish sea of cars. We found Greektown on Halsted, all the huge restaurants like amphitheaters. Ate at Athena. The taramasalata was the smoothest, creamiest I've ever had. The béchamel on the mousakka was dense, differently spiced, interesting and good. But the lamb, braised in tomato sauce, oh. Sublime. Perfectly tender, rich, meaty, filling your mouth with flavor. Oh yes. I'm ready to go back right now. I've had Greek food before. This was a different beast. The waiter, a Leo Di Caprio look-alike with a wide face and hair flopping over his forehead, grinned and said, "You can't get Greek like this anywhere but Chicago." He may be right.
Thursday. After the hotel hassle, we took the Metra (light rail) to the Museum of Science and Technology, which a reader poll in the Chicago Tribune had just that morning named one of the seven wonders of the city. It's a delight. Science made fun.
We saw the new U-505 submarine exhibit. It's very well done. As you walk through the halls toward the sub, you see dioramas, short film reenactments, and walls of photos setting up the story of the American struggle against German U-boats in World War II, leading to the capture of this U-boat. And then you turn a corner and there it is, spread out below you. The actual ship. We didn't get tour tickets, so we couldn't go inside the sub, but the displays around it were interesting enough we didn't feel cheated.
We went to the Genetics exhibit, known for its baby chick hatchery, which was apparently set up some years ago as part of a temporary exhibit but was so popular it was folded into this installation, which includes some intriguing information on cloning. The baby chick table has two parts: the eggs and the chicks. The chicks are fluffing and eating and getting the hang of this being-alive thing. The eggs are on a warming table, waiting to hatch. And hatching.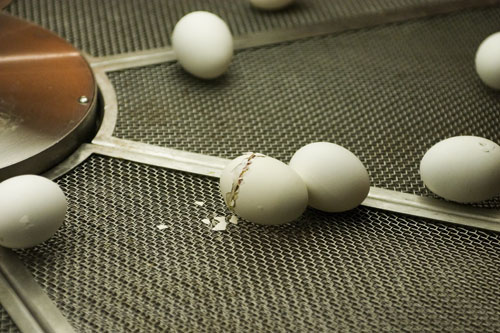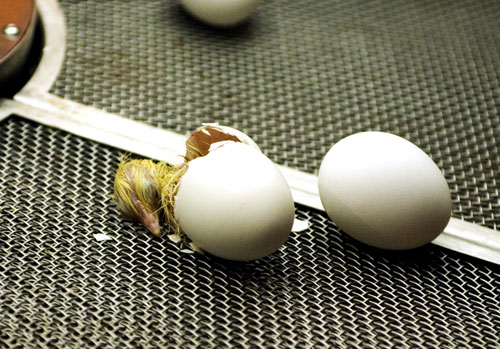 Very cool.
I also loved the train table, with its rails heading from a wonderfully rendered Chicago through the Rockies and the tan hills further west all the way to Seattle, complete with Space Needle. I think it was more fun to see because we've seen such similar scenery on our way East. Easier to walk around the table than to sit in the car all those miles, but ultimately not quite as interesting.
The coal mine was a kick. You have to go on a guided tour of this exhibit too, and I can't see how it could be otherwise. It simulates an actual exploration of a real coal mine, complete with elevator ride down to the bowels of the earth, walking along rock-walled corridors past the mining machinery, and even a ride on a train further into the mine.
Each exhibit we saw had a real sense of drama and presentation, making history and technology immediate and accessible. I'd like to go back and explore the rest of the museum. It's utterly unlike any museum I've ever encountered.
On Thursday night we met up with a woman from one of my email lists and talked floortime and parenting while the kids descended on Damian's toys in the hotel room (and played together rather well) and then we all (three adults and four kids) ate in a deserted Thai restaurant a couple of blocks from the hotel. As with the rest of the Midwest, everyone we encountered in Chicago was extremely nice, and not in that Los Angeles "I'm being professionally friendly in case you turn out to Be Somebody" manner, but in a more down to earth, unpretentious way.
Friday morning we met Jessie, Geoff and their adorable, very smiley daughter Katie for breakfast in the hotel restaurant, where we got fed for free as recompense for our room ordeals. We only seem to see Jessie & Geoff when we're on our way out of town – first in Halifax three years ago and now in Chicago. It's an amusing tradition, but one I wouldn't mind breaking. When you're about to get on the road, you get into a moving-on mindset and it's harder to settle into a real conversational flow. Sometime we'll have a chance to change that pattern. Maybe even in Chicago.
I'd like to visit again. I feel like we didn't get to know the city properly. Maybe it's impossible in a day and a half, but I think it's also that we stayed in the Loop. If I were visiting New York as a tourist, I'd hate to stay in Times Square or down around Wall Street. What do you see? Skyscrapers, theaters, and tourist spots. You don't get to see the city as the people who live there do. You don't get the flavor, how can you? A city is not its tall buildings. Next time I'd like to find a place in a residential area with easy El access to downtown.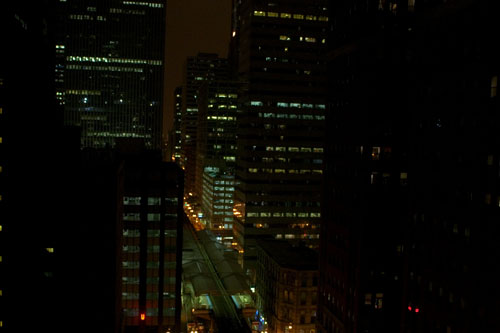 Next stop: Cleveland on Friday. Not a sightseeing stop. We stayed with my aunt and uncle and had a home-cooked dinner at their house with my cousins and children of cousins. I can remember staying in that very house as a young teenager.
Then Saturday: On the road for the very last day of driving on the winding I-80 through beautiful Pennsylvania. Trees tipped with yellow and orange among the green forests, passing rivers and so many gently rolling hills. Heading for home.
Tonight we sleep at Dan's parents' house. We were supposed to move into our carriage house tomorrow but it now looks like that'll happen Monday. I'm disappointed, a bit, but it'll also be a relief to have a down day in familiar, comfortable surroundings with family.