The Twin Cities
Minneapolis and St. Paul. So different to be hosted, not on our own. Familial. Out on the road for a week, it felt like we were in a traveling bubble. Interacting with the people around us, yes, some, but not really, just a touch on the shoulder here and an affirming nod there. But back in the car, back on the road, it does become a bubble home for three. Just us and road dust. To break through that bubble, to sit in Missy and Charlie Baxter's living room and talk about parenting and politics and places, it felt good. Very good. Reconnecting. It is, after all, the reason we're moving.
Minneapolis and St. Paul. Victorian homes small and large, warehouses down by the river turned condo, lush vegetation, even some brownstones. We've crossed into the eastern part of the continent. Tonight, especially, rain in the still-warm air, I felt home like a blanket settling around me. East coast. Home.
Minnehaha Falls, the inspiration for Longfellow's tale of Hiawatha, only he never actually saw the falls. But we have. We walked the path alongside the stream, past stone bridges, past granite slabs, spotting a heron swooping past. In the midst of the city, a slice of nature, not recreated but never tampered with. Good city planning.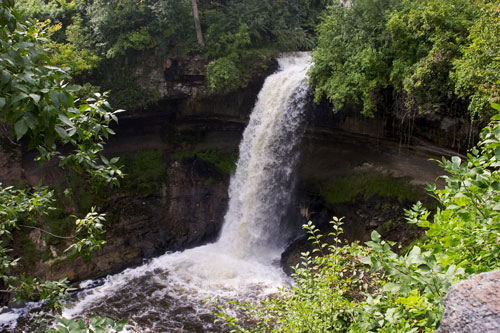 We ate lunch at Café Brenda, excellent food with a vegetarian slant in a bright room with tall windows that make you feel almost like you're sitting outside in the surprisingly peaceful historic downtown Minneapolis.
Inside the Bradley building, whimsical hangings: an airplane suspended from wires, a trapezist team captured mid-flight. Exposed beams make a huge space feel unexpectedly homey.
The skyways, clear habitrails running through the city's buildings and over the streets in between. When you live a place with such cold winters, it's logical. Skyways allow you to walk for blocks, never stepping foot outside but also not submerged under the earth. We walked the skyways and watched the rain fall outside.
Being here, in the Twin Cities, it feels in some ways like home – the architecture, the green, the humidity, the family – and in some ways like we've stepped outside the US. The cleanliness of the streets, the casual, gentle friendliness of the people, the thoughtfulness of things like wheelchair-accessible buttons you press that cause doors to swing open in front of you, it's all more Canadian than anything else.
City of lakes, city of fountains, city of the Mississippi, city of water. I hear the rain outside now. Soon to sleep, lulled by the steady familiar patter.
Tomorrow on the road again but right now, right here, this moment feels outside of time, outside of this trip. This moment feels like forever. The quiet center of a whirlwind trip.

Posted by Tamar at September 12, 2005 09:47 PM | TrackBack