Arches National Park, mostly
We didn't get to see much of the town of Moab (sorry, Rachel) – just a late dinner last night in a so-so restaurant and stops in a grocery store and a café for fixings for the road and then we hit the road again. But it was interesting to compare Springdale (outside Zion) and Moab (outside Arches and Canyonlands). Even though both cater to the national park tourist trade, rife with tchotchka stores (my favorite name: Moabilia), many with the seemingly requisite teepee and/or covered wagon out front, they have very different personalities. Springdale felt like a coastal California community, while Moab had far more of a Western town feel.
Also, Springdale had a number of gem stores. When we browsed in one, I chatted with the proprietor. Apparently much of what he sells he collects himself from the surrounding wilderness. Geodes, petrified wood, local marble, and other rocks and minerals, some of which I've never seen elsewhere. Also many art galleries, mostly concentrating on photography. Not surprising. Southern Utah is a landscape photographer's wet dream. I didn't see any photo galleries in Moab, but then, we zipped through awfully quickly. Dan says he did see some. I did see a couple of bookstores and lots of wifi cafes, as well as ATV rental shops. Both towns had bike rentals. This part of Utah has paved bike roads alongside the highway. Talk about bike-friendly.
Where was I? Ah, yes. Grab food, head to Arches National Park. The park entrance is level with the road, but then you climb past these red monoliths. Like sentinels. Like Stonehenge. They sometimes look remarkably human.
The structure to the right in this picture is called the Three Gossips, but they look more dignified to me. Like wise ancients in their flowing robes.
Then on up to the arches. Balanced Rock is a monumental kind of road marker. To the right, the Windows and Double Arch. Straight ahead, well, everything else. We went right. Parked and walked half a mile along desert terrain, through scruffy sage, driftwood and dust, right up to the Windows.
Sat under an arch, looked out over the other side, another breathtakingly steep Utah drop. Got a bit wet in a sudden, short-lived drizzle of rain. Damian took cover in the only way he could.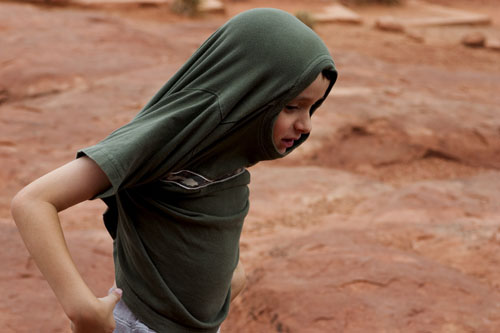 Back in the car. On to the lookout for Delicate Arch, the Utah license plate. A sharp climb up half a mile, breathing hard and sweating harder. Up at the top. Yes, I can look out and see the arch. It's far away across slickrock plateaus and deep chasms. We didn't have time for the trek to the arch itself, this will do. And I have a telephoto lens. My camera sees the arch.
The climb is worthwhile, though, for the terrain. Up high, we look out over green mountains that look like oxidized copper, and maybe they are. We see outcroppings, jumbled white rocks clumped together, the rock looks like white marble and maybe it is. Piles of stones scattered across the landscape remind me of the cairns I've seen in Ireland. In the distance, mountains and land, shades of red and brown and grey and tan.
But hot. So hot. No shade. The sun slices through you, nowhere to hide. So we head down, back to the blessed artificial cool of our car.
The arches of Arches are strange and remarkable. I wish I felt more surrounded by them, though. The park has over 1700 arches, from minor to massive. We saw how many? It makes sense, though, these are not set out to collect like souvenirs. They're the product of thousands of years of wind and water pounding on solid rock, carving caves into archways. They are where they are. The stones stand at random intervals across the landscape, it's only our human overlay that determines that this area here, this is a park, these are meant to be seen together, as one.
Great big hunks of deep red stone, dwarfing human endeavor. Sentinels.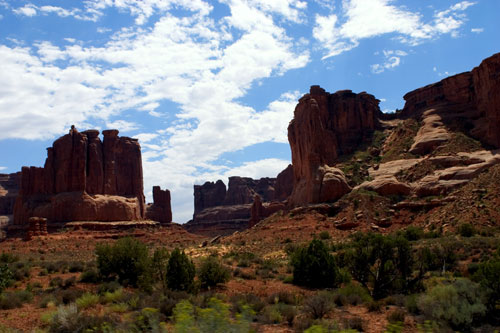 Onward. Eastward. Forward.
As we crossed the state border into Colorado, it seemed less colorful than Utah. Driving through western Colorado, it seemed like California, tan hills dotted with scrub. So many miles only to come full circle? Say it isn't so. But deeper into Colorado, it changed. Pine tree forests covered the hills around us, the Colorado River ran alongside. Sometimes, though, we could see the rocky face of a naked mountain – white or sometimes red – and I realized: Colorado mountains are Utah mountains with clothes on. As Dan said, it's a difference, not of geology but of ecological systems. Interesting how a climate shift changes so much.
We passed Vail. I'd considered staying there. I'm glad we didn't. It looks modern and pre-fab. But everything in Colorado – at least, everything we've seen thus far – is so clean and new-looking. The paint colors pristine, the lines of the buildings pure and unweathered. I don't know how they do it, I don't know if it's a fluke and we simply saw every single newly painted structure in the state, but it was striking in its way.
As was the scenery.
Tomorrow, we explore the inviting town of Breckenridge (we're staying in a truly lovely lodge high on the mountain tonight) and then head into Denver and from there up to Cheyenne. And on it goes. This trip is exhausting and exhilarating and fascinating.

Posted by Tamar at September 6, 2005 10:20 PM | TrackBack