The Black Hills
Friday, September 9
We're staying in a small two bedroom cabin set back in a meadow, against the trees. High ceilings. Pale wood floors and actual log walls. A clawfoot tub in the bathroom. Utter peace. Last night as we headed back to the cabin from dinner in a 50's diner in town, the walls covered in Elvis memorabilia with a dash of Marilyn and a dab of James Dean, as we drove up the utterly dark country road, we saw three deer crossing just ahead of us, their eyes glowing white from the headlights. Two young bucks and a doe, sauntering across our path.
Today: breakfast at a diner in town, no memorabilia, just huge pancakes and a sweet waitress who brought the local paper over when I asked about the chance of thundershowers. The local paper that said tomorrow would be "nice with a chance of rain and thunder," the next day will have "hit or miss thunderstorm activity" and then Monday will be "still unsettled enough to rain." I love that. The restaurant appetizer list enticed too: BBQ Wings and also Inferno Wings, Jalapeno Poppers, Frog Legs and, best of all, Rocky Mt. Oysters.
I understand that the Northern Black Hills are more glossy and pre-re-created Western with a capital W, but Hill City and Custer feel like (as Dan says) Northern Exposure land – northern and western both, and without much pretension. This means no wifi cafes, sadly, no health food stores, and precious little food without lard, but otherwise it's a good thing. It feels more truly rural, more genuine, more casual, not so tarted up for visitors.
First on the agenda: Custer State Park. Needles Highway: ponderosa Pine, windy switchbacks, jagged gray rocks like monuments to ancient cultures. We take a hike in the light drizzle, up a hill into the gentle forest. Such peace. When the wind blows, the aspens shiver, a susurrating song. Birch and pine and aspen, lichen coating fallen branches like Spanish moss, cotton (we think) plants in the mini-meadows, some trees turning yellow, vivid against the green pine, in turn vivid against the surprise of rock outcroppings, their jagged outlines stark in this gentle place. Peace. Quiet. Such quiet.
Back onto Needles Highway, into the heart of the park. The rocks Utah-like in their sharpness, their naked strength, but surrounded by all the green, such a different feel.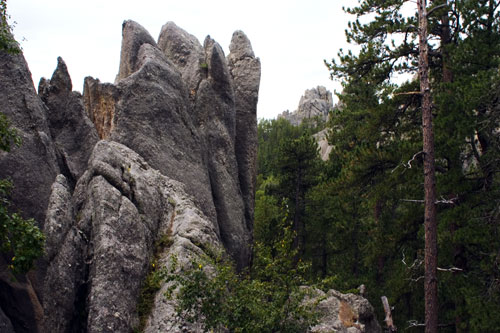 Onto the Wildlife Loop. A western safari. Red squirrels, pronghorn antelope, some kind of deer racing away from the car, burros that come right up to the car begging for food (one of them blocks the road and the others peer into your windows).
And then there are the bison.
We spotted two on the way in, then none. So we stopped at a visitor center, asked where to find the herd. He told us. We went. We were surrounded. In the center of the herd. Nearly a thousand bison. Pictures don't describe, can't describe the feel of buffalo to the left, to the right, in front of your car. You can't get out, can't feed them or pet them or even walk up to them. Too dangerous. They're big animals. Strong as hell. And they can anger in a heartbeat. So we stayed inside and drove past slowly, one of a handful of cars stopping and ambling.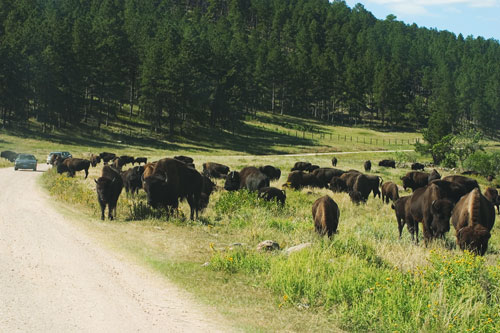 I wonder if the bison think of the cars as strange beasts meandering across the prairie like they do themselves. But no. I made eye contact a few times. They know about people. Still, though, these are not cows. These are wild animals. Wild and wooly, literally. With these long old man faces. Damian said, "Holy cow," amused at himself, but he too was mesmerized.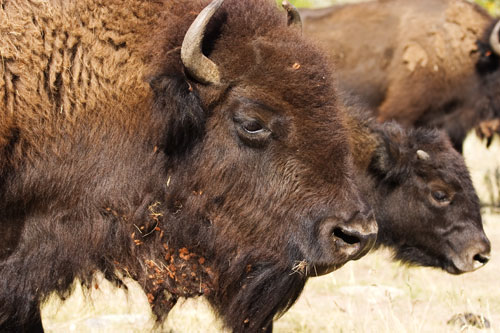 Next: Mount Rushmore, via the Iron Mountain Road. This terrain is so rugged people thought a road through was a fool's folly. But two men said otherwise, and designed a fascinating road. Sometimes the lanes split, the northbound route going one way through the trees and the southbound heading around to the other side. And the road itself isn't flat, it's supple and curved, almost sensual. Then there are the switchbacks: pigtail bridges, they're called, made from local timber – you rumble over the bridge and then immediately duck under the path your tires have just driven.
Iron Mountain Road has three tunnels through rocks – the view appears on the other side, framed like a painting. Mount Rushmore through the trees, on the other side of the valley miles away.
Mount Rushmore close up. Well, it's there. And there. And there. We walked the Presidential Trail around the base. It's big. I don't quite understand why I'm supposed to feel patriotic viewing those huge heads. I appreciate the workmanship, the audacity of dynamiting such solid rock to create such a thing. I think the choice of leaders to sculpt was appropriate, and Borghlum, amazingly, did capture something of the feel of each man. Washington noble but perhaps not deep. Lincoln serious, with depth. Jefferson wise and somewhat remote. Interestingly, as you walk around the base of the mountain, you realize that Washington and Lincoln are more prominent than the other two. A deliberate positioning, I'm sure.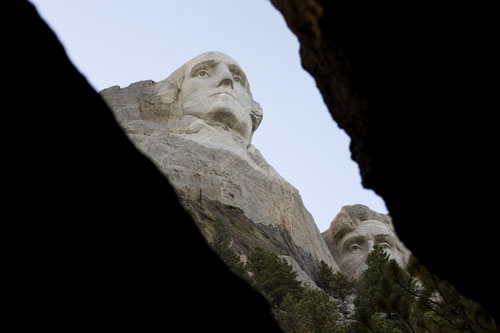 Many visitors, even late on a September weekday. Many languages. I wonder what foreign visitors make of it. Also many older couples; I've seen them at each stop we've made, and tonight I overheard a conversation between two couples. One had been on the road since December. Retired and bought an RV. Why not? Though if I had all the time in the world to travel, I wouldn't limit myself to North America.
We picked up salad fixings for a late dinner back at the cabin. It felt like a treat to be making our own meal after a week on the road.
Posted by Tamar at September 10, 2005 11:19 PM | TrackBack