whisking through Colorado
We stayed above the town of Breckenridge last night, in the Breckenridge Lodge and Spa. The view out our bedroom window (well, technically this exact view is from the deck that was just below our window):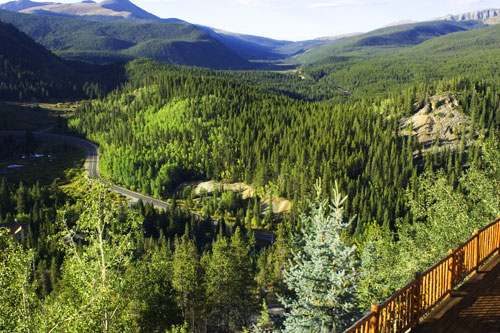 No big plans for the day – no national parks, no major excursions. I'd considered the Rocky Mountain National Park, which is just out of our way as we traveled north along I-25 past Denver, but I figured it was a little too far off the route and we'd be a little too burned out. And we were. I think down days (or, well, down half-days in this case) are crucial for any trip.
So we lingered at the hotel, wandering along the deck after breakfast, and then we checked out and did more wandering, this time through the streets of the town with its mix of Victorian and modern buildings and its dozens of t-shirt shops and ski rental places.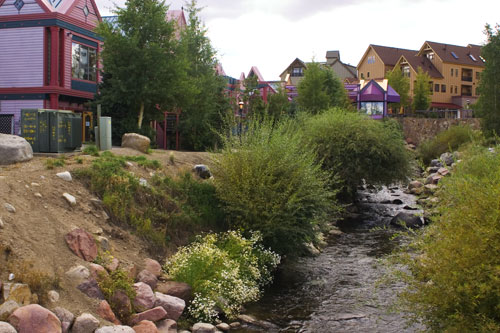 Like Moab and Springdale before it, Breckenridge has a pleasant tourist sensibility mixed with a certain hippy-tinted world view. But Breckenridge is notably Caucasian – the only non-white people I saw were worker bees at the Lodge. And the tourists are notably upscale. The nature of the Colorado Rockies, I suppose. We passed a general store advertising: "Pharmacy – Oxygen – Groceries." We were two miles up. The air feels so clean, so sharp, but you get winded after a short climb.
After wandering into and out of stores, after eating a casual lunch at a table on the grass outside a small café, we were on our way again. Down out of the Rockies, past the Continental Divide, goodbye pine trees, goodbye clean clear oxygen-low air. I'm sorry we didn't get to hike in among the trees but reassured because the pines and rocky promontories are reminiscent of Nova Scotia and the mountains similar to the Green Mountains of Vermont (though far taller), and both places will be easily accessible in our new life.
We stopped briefly in Denver for a peek into the Tattered Cover bookstore – where I surprised myself by not buying anything – I think the full car had something to do with it, as did the knowledge that our bookcases are on a moving truck – and on we went, up into the western edge of the Great Plains. Fields and fields of tan stretching to the horizon. A taste of what's to come tomorrow.
We're now in Cheyenne, Wyoming, right across from the Union Pacific train depot in a historic hotel where presidents have slept. It's not that it's so fancy, I think it's more that there wasn't anywhere else to stay around here. But it has history and charm (and a bathtub that won't drain, oh well).
Tomorrow we head to the Black Hills. We'll be there two nights; our cabin doesn't have internet access so I'll post again from Mitchell, Saturday night.
Posted by Tamar at September 7, 2005 09:26 PM | TrackBack