Zin Alley
We try to do some wine tasting every time we head to the Central Coast. I'm not a wine aficionado, but Dan is and it's fun to see the beautiful wineries, the elegant tasting rooms set among rows and rows of grapevines, usually against a bucolic mountain background. I also like the ritual of it: swirling the dark red liquid against the edges of your glass, watching it slide back down, taking a sip and letting the flavor sit on your tongue, swallowing and noting the feeling in the back of your throat and the woody aftertaste that lingers in your mouth. Eating some nuts or crackers or chocolate and taking another sip. I may not love wine, but I like rituals that involve and envelop the senses.
Some years ago at the tail end of a wine tasting day, we happened upon a little out of the way place. The tasting room was around the side of what looked like a big barn. It was dark, small. Extremely unprepossessing. Just a room, slightly chilly and did I mention small? Yeah. One guy stood behind the counter, an old man with a serious mien. I remember him as small, hunched, but that's probably an exaggeration. We talked, we tasted. That stuff was good. Even I thought so. We walked off with a few bottles, including one deep, rich port.
That place was Pesente, a real artisan vineyard. That man was one of the proprietors. They ran a small, careful operation, mostly selling locally but garnering plenty of prizes for their wines. We savored and then remembered that port for years. Dan read a while later that Pesente had shut down, the owners had sold their acreage and retired. No more dank, musty tasting room. No more secret treasure.
On our last day in Cambria last week, we decided to take a drive up highway 46, a road that goes through and to the Central Coast wine country: Paso Robles, the tiny Western town of Templeton, and dozens of wineries. We had no intention of stopping at vineyards: we were, after all, with a five year old. But I love the vastness of the empty mountains, I love the quiet up there. I wanted to take that drive.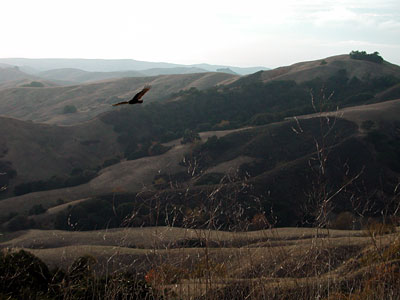 Plus, Cider Creek Apple Farm is on that road, with a delicious tasting room of its very own (apple crisps and pumpkin butter, yum). We stopped there, bought decadent treats, moved on up the road. But right there, just before you turn back onto 46, was a vineyard sign. It was five p.m. The sun was going down. We decided to poke our heads in. Test one tasting room, why not? This was our tapas-style tour of the Central Coast, after all – don't do anything deeply, but taste of everything we love there.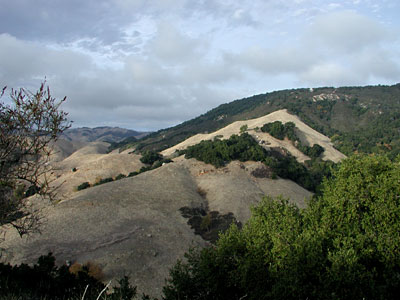 The winery was called Zin Alley. We slipped into the tasting room and were confronted with huge oak barrels. Filled with young wine, of course. Also a little terrier named Freddy, the official greeter. Also the owner, who offered us tastes of their only two products, a red Zinfandel and a port. Lovely, complex stuff. Not your usual Zin. We chatted. Turns out wine was in his blood. His family had been on this land for three generations, but had sold it off. He'd bought back a portion of it and had been working up to starting anew. Can you guess what family? Right. Pesente.
We bought a bottle of port. Steep at $40 a bottle, out of our current price range (we bought a car last month, remember?), but we will delight in that dark liquid, it's like taking a bit of the Central Coast back to Los Angeles.
As he talked about his emerging business, how he doesn't work too many acres because he wants to keep everything under his control, how he only sells to one local restaurant and doesn't ship to shops anywhere else (though he's happy to ship to individuals), I couldn't help wondering. So I asked. "Do you – can you – make a living at this? Can you pay the bills?" I asked because – as I then told him – we've been chewing over this question ourselves. How can you do what you love and live a full life, how can you put quality of life before making oodles of money, climbing the corporate (or film biz) ladder and make it work? Does it work to retreat from the rat race or is it a mirage?
It sounds like he's making it work. He's chosen to do something he's learned at his grandparents' knees, something he clearly loves, while knowing he's never going to hit the jackpot doing it. But he lives in one of the most lovely parts of the country, life is slower but not mind-deadening, and he's his own boss, making something he can be proud of. That's a lot right there.
I'd trade.
(For a glimpse of the Zin Alley tasting room, check my photoblog entry.)
Posted by Tamar at December 7, 2003 08:39 PM