Zion to Bryce to Moab and wow
Morning: Visited a small health food store south of Springdale, picked up lunch for the road. Springdale is an interesting town. Very much geared for the tourist trade, but with its own alternative flavor. No bible in the hotel room. The only bookstore in town doubles as a healing center.
On the way to Bryce. Drove through Zion to get there. Got a second chance to explore, this time by car. So beautiful.
Shortly after the turnoff to route 12, purportedly one of the most scenic roads in the country (I can't say because we weren't on it for long enough), we passed stark red rock formations. Just there. A surprise. Part of Dixie Canyon National Forest, I gather:
Then on into Bryce Canyon. Not what I expected. The park is on the rim, so you drive through forested hills, no hoodoos (the rock formations Bryce is famous for) in sight. Then you head to a view point and walk to the edge and lo! A deep canyon, Bryce Amphitheater, filled with twisted multicolored fingers of rock. They look almost alive, certainly expressive. Sometimes I thought I saw faces.
We didn't go down among them. It's a steep climb down and we had a long drive ahead. Damian was deeply disappointed. He loved yesterday's hike and wanted to do more. I applaud that. We just didn't have time.
Bryce was much more tourist-feeling than Zion. The main lookout, Sunset Point, was tour bus central. Everything felt tamed, controlled. Necessarily so. Those cliff edges were so steep, so abrupt, and the sights within otherworldly and delicate. Somehow, maybe because we stood at the top and looked down into the amphitheater, maybe if we'd gone down those steep paths and felt the hoodoos as sentinels all around us we might have felt different about the place, but it was stunning and amazing but not as personally enthralling as Zion. Bryce is more remarkable, more thoroughly unusual, but once you see it you get it. It is what it is. Zion is something different at every step, it invites you in, it carries a certain kind of peace, it envelopes you in its spectacle.
After touring Sunrise Point, Sunset Point (along with German tourists with Harley Davidson t-shirts), and both lower and upper Inspiration Point, we called it a visit and got into the car for what we thought would be a straight-shot drive to Moab, on the eastern edge of Utah.
Utah, though, is amazing. Sometime late in the afternoon, Dan said, "After Utah, I'm going to get tired of saying 'Wow."" Because wow.
We were driving along I-70, the scenery changing from pine forest to soft wrinkled hills reminiscent of California to red rock mesas – on and on, changing and changing again. We pulled over at a scenic view stop on the 110 mile stretch of highway with no towns, no amenities, no civilization at all – and found a wide multi-level table of white rock, twisted junipers and small bushes, and then this steep, intense drop into a basin of red and white and green. The San Rafael Swell. I hadn't come across it in any guidebook, but wow. Stunning.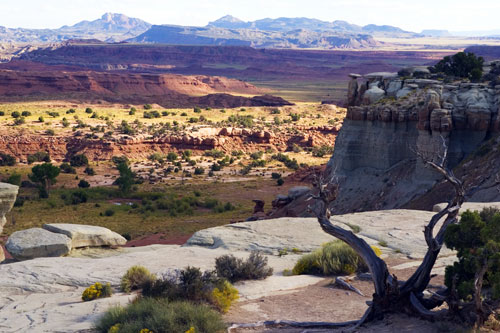 Saw two cowboys, too. Right near the road. On horseback, rounding up a few stray cows. Saw a herd of bison, next to a shack selling buffalo burgers and steaks. Saw a flock of ostriches (tame). This is the west, oh yes.
It was a long drive. Damian watched Ice Age on his portable DVD player, the first time he welcomed something other than watching the scenery and exclaiming how beautiful it was. Funny to me, because today's drive was far more beautiful than Saturday's. But he's discovered the joy of being out among it all. And so we will be. Tomorrow, Arches and then into Colorado.
Tonight we stay in a Holiday Inn in Moab. Generic, of course, but clean and pleasant, and the woman at the reception desk upgraded us to a mini-suite after we told her our non-smoking room reeked of smoke.
Posted by Tamar at September 5, 2005 10:26 PM | TrackBack