Madison
Yesterday: Driving through Wisconsin, rolling hills and so many grain silos.
We passed gleaming silver trucks with round long bodies, filled with milk. We passed gas stations, small markets, all advertising cheese, or, rather, Cheese! Sometimes Cheese – Gas – Fireworks. Once I spotted a sign: "CHEESE" in big letters and, in smaller letters underneath, "food."
We stopped along the way for a bite of cheese. (Well, wouldn't you?) and continued on toward Madison, passing fields of corn, fields of brilliant orange-tinted plants, swaths of reddish grass along the road, and lush green deciduous trees. When we got out of the car, the air smelled damp and the breeze ruffled the edges of our clothing. It felt like the east. It felt like home. Have I said this before? Yes, I know I have, but it bears repeating. This trip – any trip across country, I think, but particularly this one – is a revelation, the way the scenery, the people, the atmosphere itself all shift as you go. Moving away from one place and toward another, a change both gradual and radical.
Our first deviation from our original itinerary: we skipped a stop in Spring Green, thereby missing out on Frank Lloyd Wright's Taliesin and the kitch classic House on the Rock, both of which I'd looked forward to seeing, but it would have meant two extra hours of driving and by now we're getting tired of the numbness and the constant roar of road.
We went straight to Madison and checked into our first Bed and Breakfast of the trip, a Prairie House style semi-Craftsman house built in 1911, a beautiful place. Though the bedroom felt more drab than I'd hoped, the communal living room downstairs didn't disappoint. Dan and Damian played dominoes while I took a nap on the couch. My first nap of the trip. Many firsts here.
Dinner was a social treat: finally meeting Karen, who I first knew from her (sadly defunct) online journal and who was as thoughtful and real as I always knew she would be (you can in fact tell a lot about a person through their words, it turns out), having dinner at her house with her wonderfully open and genuine husband, watching our sons play together and riff off each other. I think Damian was as starved for kid company as we've been for good, deep grownup interaction. It was hard to leave.
This morning, we wandered Madison for a short while before we got restless for the road.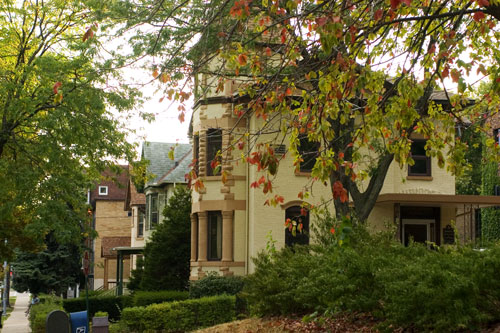 I can't say I have a profound insight into the town; we skimmed the surface, if that. I can tell you only that the college students on State Street made me feel older than I usually do, and my own time in school seemed so far behind me.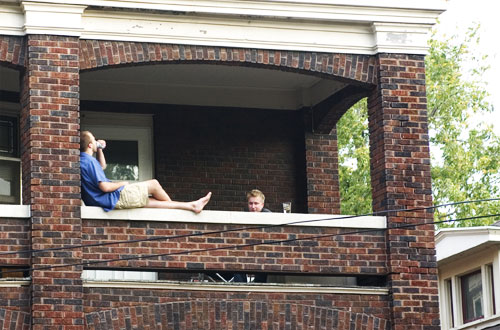 And that I loved a little feminist bookstore/café we discovered, rife with sassy bumper stickers and cute kid t-shirts ("I love my mommies two" and such) and mountains of intriguing books. And that I liked the way a group of local businesses are handling Katrina donations: instead of setting up a Red Cross donation jar, they're asking for donations that will go for supplies and a rented pick-up truck, which one of them will drive down to Louisiana. Less overhead, more direct. I like that mindset.
On to Chicago. Easy sailing until we got close to the city. Then gridlock.
More tomorrow.
Posted by Tamar at September 14, 2005 09:27 PM | TrackBack