portraiture
I've been trying to fully and completely imagine the life of a photographer, what it will be like for that to be me, on the job. Doing it. How to handle a photo shoot, the interaction and the getting-that-image part, mixing the two in just the right measure to elicit emotion on film. Also how to make it fun. And most importantly, how I'll do with it. How the photographs will turn out, whether I can capture something good. Whether I have the chops. What it will be like when I'm not just snapping away at a party or grabbing an interesting shot as I walk down the street, but doing it on command, with full intent.
I love photography, I have for years. But it's a different animal when you're on a shoot and you have to consider f-stops and remember ISOs and be aware of the strengths and weaknesses of your lens at the same time that you're taking in the entire frame and what the background and light are doing for you.
You could say photography is just a matter of catching the moment, of just being there and knowing when to press the shutter. Sounds so simple. And it is. But yet it isn't. I want more practice before I can be confident setting up official for-pay photo sessions (and no, taking pictures of a copy machine doesn't count, copy machines don't have emotional depth). So I asked a very pregnant friend if I could do a test run with her. She said yes. Free pictures, why not? For those of you who have been with me for a long time, you may remember her: Jami, Damian's former nanny. She's one of the best people I know. Heart and soul.
I went over there on Thursday. She warned me that she's a terrible model, outrageously self-conscious. I said I'd wear her down by taking so many pictures she'd forget the camera. Which is what happened. We had a good time and I'm pleased with the results.
Here are a few sample shots: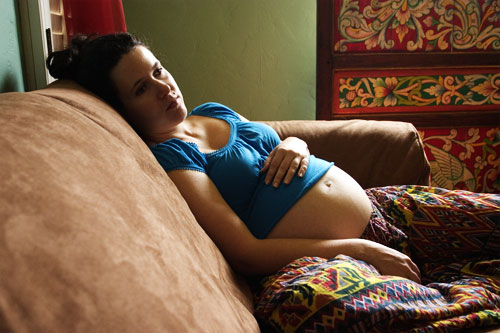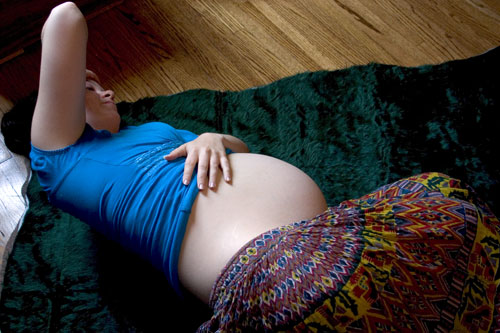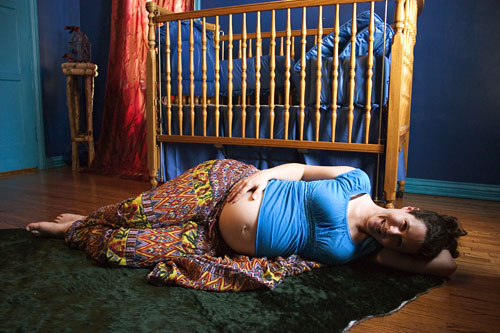 The crib, by the way, was Damian's. A friend gave it to us, now we bequeath it to Jami for her little one. This will be the fifth baby to dream her way into toddlerhood in that crib.
Posted by Tamar at
10:32 PM
|
Comments (3)