It's a strike!

It really was a strike! Tomo, Yoko and I went bowling last night. My score was not too bad, considering. Tomo and Yoko were better, for sure. But partway into the game, I realized that if I concentrated more on what I was doing, not just throw the ball and hope for the best, but really concentrate, as in telling myself to keep my wrist straight, to think "strike" (i.e., get the ball to go down the center of the lane, not into the gutter!) it really helped. Not very different from playing the piano, where so often I find my mind drifting and then the notes wander away from the music and go into the gutter as well. I think it is different in painting, where my mind is tuned in whether I realize it or not, my reactions sometimes feel outside of my body/mind. Maybe because I have been doing it for so long and it is so much a part of my body language. But then there are times when my concentration is essential to make the right choices. And that's where it counts on the scorecard.
I also realized after a while Yoko was doing so well because she used the shiny balls. That helped my game too!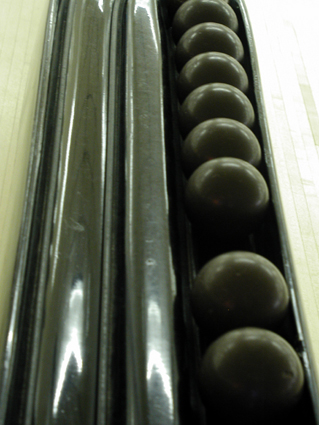 Here they look like chocolate balls—good enough to eat.
Posted by leya at July 3, 2004 02:03 PM