cake
Small birthday party for the seven year old Sunday (yes, it was Mother's Day, what's your point?). Homemade chocolate cake (frantic IM to Diane: Know any good chocolate layer cake recipes?). Decoration conceived and supplied by the birthday boy: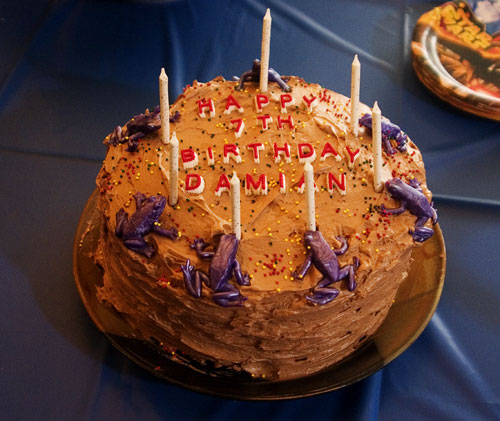 The cake was yummy, and a good time was had by all (I think).
It's funny, really. The last couple of years we've had larger parties; fifteen kids or thereabouts, plus parents. We've put on a good spread and came up with interesting party projects. And I think everyone had fun... except Damian. Or rather, he kind of sort of had fun. He enjoyed the idea of it more than the event itself. A whole bunch of kids invading his room/toys/house/yard, that part overwhelmed him a bit. So this year: six kids, including him. A total of four families, including us. And he had a great time. Sometimes you have to put aside your own preconceived notions, your own idealized version of what something should look like and see it from a seven year old's point of view. This particular seven year old. A successful party is one that the birthday boy enjoys. A successful life is one that fulfills and satisfies the person who lives it. You can't judge based on externals.
Posted by Tamar at May 10, 2005 04:13 PM | TrackBack