Another tango weekend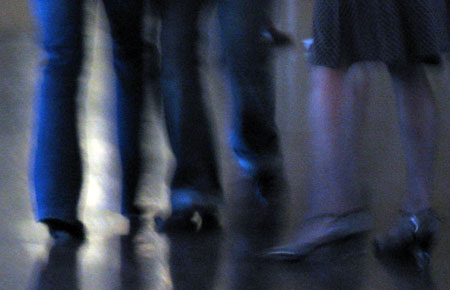 Another Tango weekend! This one was with Tomas Howlin (who has been here previously), an Argentinean living now in Montreal. By the end of Sunday, my feet hurt, but otherwise, it was a totally exciting and worthwhile weekend.
Well, to be honest, there were moments when I felt my whole life walking before me. What I mean is: We rotated partners every two dances. There was an uneven (not to say odd) number of people which meant that someone did not have a partner. And, as I am not a very assertive person, for the first dance it was me, of course, who was odd one out. When Margaret, my teacher here in Halifax, explained we would take turns not having a partner, I just said "It's the story of my life!" After that, it was okay.
Tomas presented a slide and video show Saturday afternoon. Tango was not the norm in Argentina when he was growing up there, not like it is now. Someone asked him how he became involved in it, He said he was studying philosophy and music at university and his instructor said he wouldn't teach Tomas to play the Mozart flute sonata until he understood contemporary pop music. After all, Mozart's music was the popular culture of his time. This lead Tomas to explore pop music, then blues, Jazz and eventually tango. Now tango is a major export of Argentina, even taking root in Nova Scotia, thanks to the industry of Margaret Spore, who brought Tomas here from Montreal.
And I'm going to Montreal the end of the month and hope to take some classes there. I can envision a string, like a paper chain, of tango dancers around the world.
Posted by leya at
08:27 AM