I Am; You Are
Brian also delivered some more canvas stretchers he built for me yesterday. So now I have plenty of work ahead. Stretching and priming, a variety of sizes, but none too big. I really prefer to work on large pieces but need to work smaller right now. Maybe in a month or so I'll start some larger ones.
Meanwhile I've been working on eleven (cheaper by the dozen but they only had eleven at the store so they gave me the discount anyway) 20" x 20" pieces. My gallery in Switzerland wants more bright colors: reds, yellow, blues. Here they seem to go more often for the softer ones. Even though it is more grey here and more sunny there (at least when I was there). I've been at them for a couple of days so I'm not sure what they will look like ultimately, but at this point I feel things are changing. Possibly more in the middle, not just pushed to the edges. Definitely more active energy. But then, as I said, there is still more to do so I will have to wait and see.
I did sell a bright red piece to someone here who had previously bought a pale green. This person has an uncanny ability to zero in on seminal pieces, to choose ones where something new is happening. And best of all, he uses my paintings as his home entertainment (rather than having a TV). This is inspiring to me. I call this painting I Am; You Are for obvious reasons.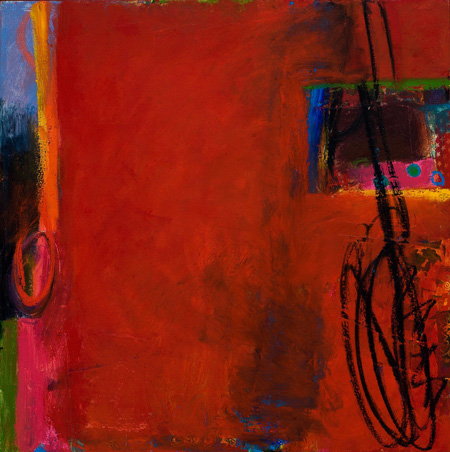 Posted by leya at September 29, 2006 04:56 PM