Ready for tomorrow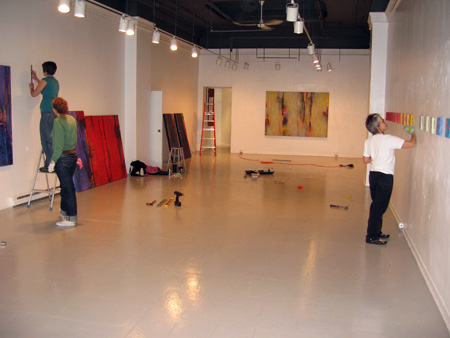 We hung my show this afternoon. Two NSCAD students and a very generous friend. It looks good. The blurb I am putting on the wall with the paintings reads:
Speculations & Revelations . . . because that is what painting is to me: explorations, possibilities, imaginings and openings. I've chosen to work abstractly, to consider the painting process, the marks, the color, the impact of these, to be the image itself, without literal references. It's not about representational images. What you can experience is an exploration of possibilities, an opening to an inner dialogue between the painting and yourself.
I'm looking forward to tomorrow: the opening reception is 5:30 to 7 pm, at the Anna Leonowens Gallery, 1891 Granville Street, Halifax. The exhibit will be up for two weeks, until June 24. (I'm giving a gallery talk, noon, June 21.) Do come by if you can!
Posted by leya at June 11, 2006 07:28 PM